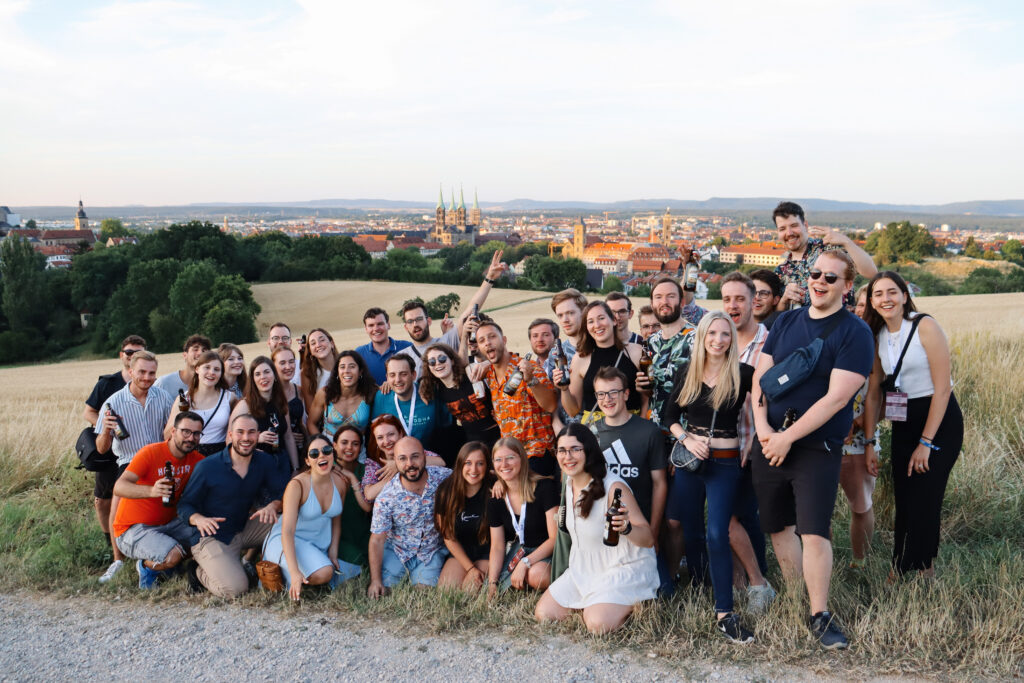 The AEGEE-Antennae (local AEGEE-organizations) organize several international events. Some of these events are organized to determine future directions of AEGEE, others are organized to foster intercultural exchange and education. Here, you see a picture from our latest SU in 2022.
Intercultural and Educational Events
Summer University
---
Summer Universities (SUs) are the most common intercultural events at AEGEE. A Summer University is an intercultural and educational experience that every local antenna organizes for a fixed number number of AEGEEans (members of AEGEE). This summer vacations have a strong cultural focus and can last from one to up to four weeks. However, each SU has also an educational focus which usually includes delivering workshops concerned with topics of the Focus Areas set by AEGEE-Europe. Additionally, and maybe most importantly, SUs will only cost you a very cheap fee (from 77€ to 98€ per week). This fee includes activities, accomodation and food.
Our SU 2022
AEGEE-Bamberg has just recently hosted a SU with over 30 participants. We have provided the participants with an extensive cultural program spanning from experiencing Bamberg's beer culture to parties and relaxing by the lake. Additionally, we offered workshops concerned with mental health and sustainability. If you are interested, check out our blog post here.
AEGEE Exchange
---
AEGEE Exchange is not only about exploring new places, but also making new and long friendships. From talks in different languages to late-night conversations, from breathtaking landscapes to unforgettable parties, every moment of an AEGEE Exchange is a piece of a grand adventure puzzle. Different AEGEE Antennas visit each others cities and/or countries, and show the power of diversity.
Check out our Exchange with AEGEE-Dresden.
Content Events
Content events are the events deciding about the future directions of AEGEE. They include the AGORA, the most important content event, the EPM and the SPM.
AGORA
---
The Agora gathers members of all AEGEE-Antennae. Together they decide about the future of AEGEE. It's the biggest event of our network with up to 800 participants. The Agora is hosted by an antenna and organized in cooperation with AEGEE-Europe twice a year.

Topics that are discussed at the AGORA concern finances and focus areas of AEGEE-Europe, the CIA (a type of constitution for AEGEE) and the election of AEGEEans (members of AEGEE) into positions on the European level.
Take a closer look at Spring AGORA Enschede 2023.

EPM
---
The European Planning Meeting (EPM) is a conference concerned with deciding on the so called "Action Agenda". The Action Agenda is a detailed plan for implementing the different Focus Areas of AEGEE.
The topic of an EPM is selected by the Delegates (delegated by the different AEGEE-locals to vote on their behalf) at the spring Agora of the previous year. Afterwards the Comité Directeur (a type of Board of AEGEE-Europe) appoints one or more Content Managers. These work out the topic further and develop workshops in cooperation with the relevant European Bodies.
SPM
---
During the Strategic Planning Meeting (SPM), motivated AEGEEans will come together to draft the next Strategic Plan, which sets the direction of AEGEE both internally and externally for the next three years.
The Strategic Plan can be separated into a thematic and an organisational focus. Within the thematic part of the strategic plan a description of the new Focus Areas with their overall goals.
On the other hand, the organisational part illustrates structural and organisational improvements that we deem necessary to make AEGEE more effective and efficient in the future!